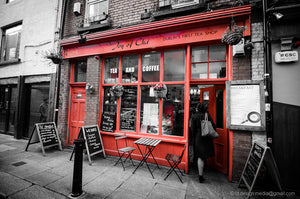 Why loose tea?
Did you know that the tea in normal tea bags is just the dust and fannings from broken tea leaves? You deserve better than that! In contrast to tea bags loose tea allows the essential oils out making it flavourful and aromatic. The smell and taste will blow you away! With loose tea you can choose from a huge variety of fresh and organic tea's from all over the world.
Check out our lovely Italian hot chocolate!
---
About Us
Joy of Cha is a family business that was opened in 2006 in Dublin, Ireland and became the country's first specialised tea shop. We have been selling premium tea and coffee for more than 15 years so we have a huge amount of experience at our disposal. You can be assured that you will receive the best quality products and services.